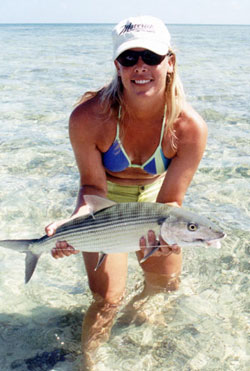 Pursuing the Ghost of the Flats in Key West
Bonefish: Albula vulpes
Silver colored with a bluish or greenish back, slender body. Proudly called the ghost of the flats. Once you fish for them you will understand why... they are difficult to see on certain flats. It works better sometimes to look for the shadow they cast on the bottom of the flat. Bonefish in the Keys range from 2lbs all the way up to double digits. The average in the Lower Keys and Key West is around 4-5lbs. Larger bonefish are around and they are more common in the upper Keys. Some say the bonefish in the upper Keys are more difficult to catch, they seem to be smart to the ways of anglers.
Bonefish have a keen sense of smell and they can smell shrimp in the water from a long way off. Light tackle fisherman may chum with live shrimp to get bonefish to come across an area within casting distance. Live shrimp or a small bonefish jig work best with live bait. Fly fishing for bonefish in Key West is great in the summer months. If you don't mind the heat, try fishing here through the summer or into October. They love foxy clouser type flies and you will want a range of weighted eyes for very shallow to deeper flats.