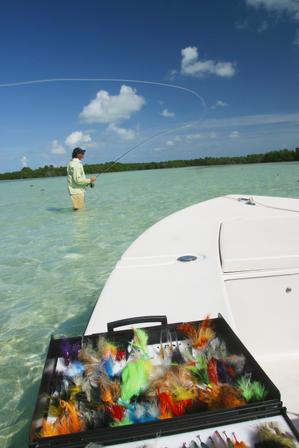 Equipment suggestions for Key West Flats Fly Fishing

Most of the guides here in the Keys have their own equipment. If you are specifically looking for a fly fishing guide, ask him what type of equipment he has.
Captain Justin has Sage fly rods and both Tibor Reels and Galvan Fly Reels. He highly recommends Galvan Fly Reels and has been testing their new saltwater series for two years now. They are durable and the drag system has been tested to the fullest ability... on large migrating tarpon!
For Bonefishing with a fly
8wt rod and reel
floating line (I recommend Rio line with the clouser taper)
Foxy clouser size 4 with a mix of bead chain, extra small eyes and small lead eyes.
Other good flies: green/white clouser, tan/white clouser, small merkin pattern with silly legs.
Fly Fishing for Permit
10wt rod and reel
floating line
EP crab flies work great (http://www.epflies.com) in tan or dark brown with orange tip silly legs, classic Merkin pattern works well too.
I often tie new patterns based on what I've been seeing out on the water, so email me if you need more info.
Tarpon on a fly
12wt rod and reel
floating line
shock leader (flourocarbon or mono)
cockroach pattern flies in black/red, chartreuse/white, orange/yellow, natural tan.
Of course there are so many tarpon flies you could possibly use, it depends on what time of year you are here in Key West fishing.
Please ask me if you need help, I tie tarpon flies all season long. They don't take long to tie and with a little added creativity, there is always something new for those darn tarpon to charge at and eat.