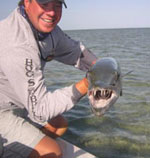 Key West flats fishing charter cancellation policy
Deposits to reserve your Key West fishing days
We ask for a 100.00 deposit for each guided day you would like to reserve. Please send your deposit to Captain Justin Rea, 160 Sugarloaf Drive, Sugarloaf Key, FL 33042.
Payment accepted: personal checks, business checks, travelers checks and cash.
Refund / Cancellation Policy
A full refund of the $100.00 deposit will be returned, if the guide cancels the trip for any reason. If the client cancels the trip 30 days in advance, a full refund of the deposit will be issued. If the client cancels the trip within 48 hours of the planned departure date, payment in full is required.
Weather and wind are a factor in every fishing trip, we will try our best to work around it when needed, cancellations for weather conditions are at the captain's discretion.