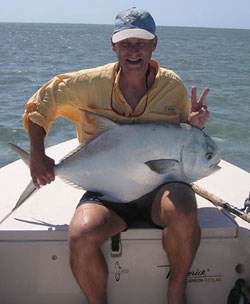 Permit Fishing in Key West
Permit are probably one of the most hard fighting fish that cruise the flats. Their thin but wide body enables them to put up a very good fight. Permit are most sought after by fly fisherman. Permit on a fly is a lifetime achievement. Permit caught at all is a great achievement too!
Permit feast on crustaceans such as small blue crabs and shrimp. It is difficult for them to refuse a live crab when it is presented correctly.
Each year there is a Del Brown Permit Tournament in memory of the man to hook and land over 500 permit on fly. There are many more tournaments in the Key West area for permit, bonefish and tarpon throughout the year.
Permit : Trachinotus falcatus
Silver gray colored with dark blue back. Permit are found both offshore on wrecks and reefs and inshore on the flats of the Florida Keys. The Marquesas is a popular place to fish for permit and some of the largest permit have been caught here. The average weight of permit in the Keys is around 15lbs. They have been caught up to 35lbs.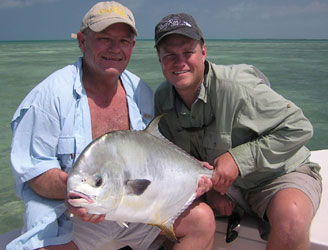 We fish for permit in Key West for most of the year. Mid-April and into May the Permit go offshore to spawn on wrecks and deep reefs. They return to the flats at the end of May and into June. Light tackle fishing for permit requires a lively blue crab hooked through one of the points on his side, enabling him to swim freely. These blue crabs are about the size of a silver dollar. On the flats permit will put their tail in the air while feeding. They are scouring the bottom of grass and sand flats looking for crabs that are buried. When casting to permit on the flats, your cast needs to be very close by to ensure the permit sees the bait. The hardest part is not putting the cast too close where the permit would spook. Fly fishing for permit is by far the most challenging part of fly fishing in saltwater. Many hours are spent around the fly tying bench trying to perfect the crab fly pattern. Del Brown's Merkin seems to do the trick pretty well, as does Enrico Puglisi's Crab patterns. We end up tying a few new crab patterns each year. Some work, some don't. The best study is the live blue crab we use for bait.