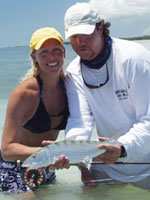 Saltwater Fly Fishing in Key West, Florida
Fly fishing in saltwater has become a very popular sport in recent years. Watching the great fly fishing legends on the weekend fishing shows makes it even more desireable to get out and try fly fishing for yourself. It's a wonderful sport for those who put the time and effort into practicing their casting. Fly fishing in saltwater puts you in a whole different ballgame when it comes to casting in wind, watching your target (which is also moving), and making a long enough cast to lead the fish and entice him with your dancing fly.
No matter how long you have been fly fishing, it still makes your heart pound to see an 80lb. tarpon crusing by as you are casting to get a good shot on him. If you do end up hooking him just strip and strike him hard, and then hold on!
Among the most popular target species in the Keys, tarpon, bonefish and permit are the big three on the flats for fly fisherman. If you need some extra practice, the bonnethead sharks and jack crevalle put on just as good of a show and fight equally as hard.
For tarpon season we suggest you book a guide well in advance. Some of them do book up to a year in advance for April, May and June tarpon fishing trips.
West of Key West and the Marquesas
To the west of Key West are a chain of islands that extend west and south west, the last being the Dry Tortugas which is 70 miles away. The Lakes Passage has some of the most pristine grass flats and holds plenty of fish for those looking for some backcountry action. Permit especially love turtle grass because the blue crab that they love so much lurks in the grass. Permit will dig for crabs that try to hide and sometimes their fin and tail will come completely out of the water. We call these tailing permit, and they are an awesome sight! The Marquesas is a group of islands called an atoll. The Marquesas Keys are 22 miles from Key West Harbor, across the Boca Grande channel. During our tarpon season, many of the guides from throughout the Keys will travel to fish this oasis. It is a beautiful place just teeming with life. Our job as anglers is to appreciate this wonderful place and keep it as beautiful as we found it.

Backcountry fishing around Key West and the Lower Keys
The Key West backcountry is picture perfect. Not that the rest of the surrounding waters are not, but the backcountry has deep blue channels dividing white sand shallow flats and mangrove islands - - simply beautiful! The backcountry is a popular spot for bonefishing. Mainly backcountry to us means to the North into the Gulf of Mexico. So North of the Florida Keys is our backcountry. There are many spots in the backcountry where your guide can take you to wade for bonefish and permit. It is a great way to fish more than one angler at a time as well as be able to get closer to the fish to cast.